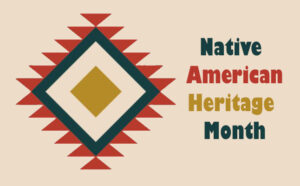 The month of November is nationally recognized as Native American Heritage Month. Community Health Care, as an organization, is invited to celebrate alongside our Indigenous patients, staff members, and community in honoring the varied cultures, history, traditions, and triumphs of Indigenous People past and present. We value the impact that Native groups have on our community as well as our mission to provide quality and compassionate health care to all.
Native American Heritage Month fosters the opportunity to Educate, Empower and Act. In this spirit, we invite you to use this month as a time to not only explore and support the diverse cultures and contributions of Native people, but to also empathetically increase your knowledge of the unique challenges faced by this population.
The first year of dedicating November as "National American Indian Heritage Month" was in 1990, proclaimed by President H.W. Bush, and has continued each year under subsequent presidents. The title of the celebration was changed to "National Native American Heritage Month" in 2009 under President Barack Obama.
We gracefully acknowledge that we are on the traditional ancestral and historical lands of the Puyallup Tribe of Indians. We take this month to acknowledge the strength, resilience, and power of our Native partners and allies.
Some scholarly work to read during this month is a Conceptual Framework of Nursing in Native American Culture which was created to depict the phenomenon of the seven dimensions of nursing in the Native American culture.
Helpful Information about Native American Heritage
The mission of AIANTA is to define, introduce, grow and sustain American Indian, Alaska Native and Native Hawaiian tourism that honors traditions and values. Summary from the database
The search bar in the 'Interactive Native Land Map' will take you down to a state, city or even individual address and will list the territories, languages and treaties that were made
Native American Heritage Month 2023
In 1990 President George H. W. Bush approved a joint resolution designating November 1990 "National American Indian Heritage Month." Similar proclamations, under variants on the name (including "Native American Heritage Month" and "National American Indian and Alaska Native Heritage Month") have been issued each year since 1994
Resources, news, support from the National Congress of American Indians (NCAI) which was founded in 1944, and is the oldest, largest, and most representative American Indian and Alaska Native organization serving the broad interests of tribal governments and communities. Summary from the database
Neil Gorsuch sided with the more liberal side of the bench on March 19, 2019, to hand the Yakama Tribe a victory in the first Indian law decision from the Supreme Court's current term
Indian Affairs (IA) currently provides services (directly or through contracts, grants, or compacts) to approximately 1.9 million American Indians and Alaska Natives. There are 574 federally recognized American Indian tribes and Alaska Native Villages in the United States. Summary from the article
This month, and every month, please take the opportunity to learn, listen, and reflect on the remarkable achievements and successes of Native people throughout the community.