Dental
Dental Appointment and General Information Line: (253) 722-2151
If you have COVID-19 Symptoms and an emergency dental need please call (253) 722-2151 and we will evaluate if you need to be seen for an appointment. 
Insurance Enrollment Assistance: (253) 722-2154
Our dental clinics provide preventive and restorative services for all ages, children and adults. We focus on early screening for all children and sealants for school-age children. Our dental clinics are led by Dr. Jeff Reynolds, Community Health Care's Dental Director.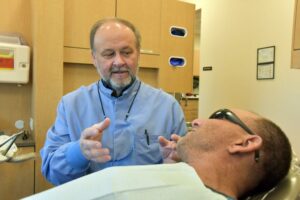 Our dental clinics specialize in general dentistry. Services provided include:
Emergency Dental Care
Nitrous for Children
Fillings
Sealants
Cleanings
Extractions
Composites
Night Guards
Space Maintainers
Broken Teeth
CHC dentists have completed Access to Baby and Child Dentistry (ABCD) training, and are ABCD certified. This means that our dentists are well-trained and experienced in providing care for very young children and expectant mothers, as well as all adults.
Many insurance plans are accepted including Washington Apple Health, Medicaid, Tricare for Dental and most private insurance plans. Call the clinic to determine if your insurance is a plan we accept. Low-income patients may be eligible for discounts on insurance deductible payments. Patients who are uninsured or are under-insured will be billed on a sliding-fee scale. No one is turned away due to inability to pay.