Women's Health Services
Comprehensive Women's Health Care
What precisely is "Comprehensive Women's Health Care?"
Women's healthcare encompasses a number of things, starting with regular, annual pelvic exams and pap tests, family planning and finding the right birth control, treatment for sexually transmitted diseases, counseling, education, maternity (pre- and post-pregnancy care). Whether you are looking for a family practice doctor to help with your comprehensive women's healthcare or an OB/GYN specialist for more complicated matters, Community Health Care can assist with all your women's healthcare needs.
At Community Health Care, our Family Practice Physicians provide routine obstetric and gynocological services and collaborate with the specialized Women's Health Team to provide exceptional care with the experience and compassion which is the high standard of our service to our patients.

Women's Health Services include:

Routine gynecological screenings and exams, annual exams, testing and treatment for sexually transmitted infections
Management of reproductive and gynecologic issues across the lifespan, including surgical management when indicated.
Full range of contraceptive counseling and services including IUD's, implants and sterilization by tubal ligation
Managing symptoms of menopause and postmenopausal health
Obstetrical care, pre- and post-delivery

Community Health Care believes that healthy babies start with healthy moms, and care needs to begin as soon as possible in your pregnancy. The family practice doctors and the OB/GYN specialists of the Women's Health Care Clinic are a multi-disciplinary team who work together, offering:

Routine and high-risk-pregnancy care
Prenatal care, vaginal delivery, or C-section delivery at St. Joseph's Hospital in Tacoma
Post-partum follow-up care and birth control assistance
Newborn care

Maternity Support Services include:

Referrals to community programs and services
Pregnancy and infant care education
Assistance with finding housing, employment, clothing, furniture, transportation
Assistance with finding financial assistance
For those eligible, support services continue until the baby's first birthday. After the baby's first year, your care and the care of your baby will be continued by one of our many certified family practice medical providers.

Free Pregnancy Tests at each Medical Clinic

We know that family planning can be challenging, that's why we're here to help. We offer 100% confidential, free pregnancy tests with no appointment needed. You do not need to be a Community Health Care patient. To receive a test, visit any of our medical clinics and ask for a pregnancy test.  Visit here for a list of locations and hours. The test is administered by Community Health Care staff. Results are available immediately and we can help you from there.

Next Steps

If the results from the pregnancy test are confirmed, our staff are here to help you get to your next step. We have family practice doctors and a Women's Health team of board-certified OB/GYN's who can work with you to have a healthy pregnancy and a healthy delivery. We have many family practice providers and pediatricians to help ensure your child has a happy, healthy start to their life.

We also have a Maternity Support Services team to help expecting women who need assistance with nutrition, counseling, social assistance, parenting skills, breastfeeding support, and maternity support. Support services continue for a short time after your baby is born. Infant support and behavioral health support continue until baby is 1 year old.

If you would like to get started with us now, call (253) 722-2161 to schedule an appointment.

Family Care Physicians are trained in all aspects of care. For regular, ongoing health maintenance, including general women's health management like birth control and cancer screenings, Family Care Physicians can provide comprehensive services.
For an appointment call: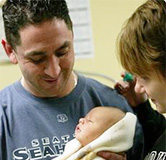 (253) 722-2161