Quality Care, Where Children Need It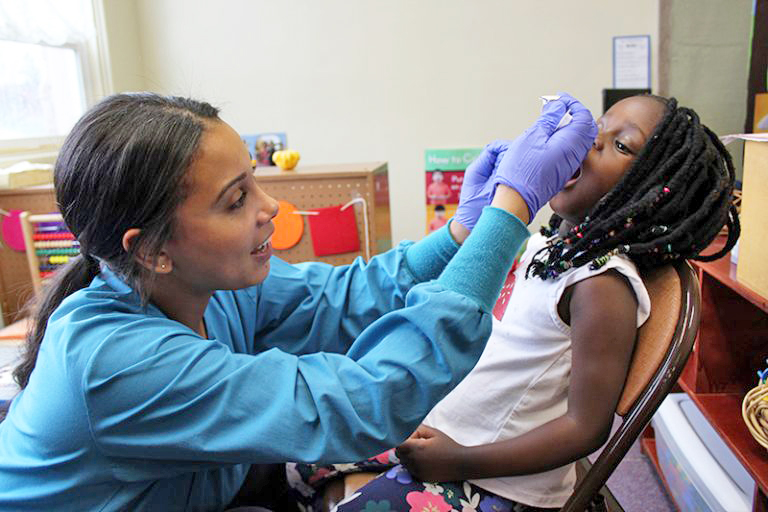 We provide oral health services at more than 60 school sites in Pierce County through our School-Based Oral Health Program. We provide oral health screenings, toidentify decay and other dental needs. We provide sealant applications, to reduce the chances of children developing decay on their molars. We also provide fluoride varnish, to strengthen and protect teeth as they develop. Our goal is to ensure children in our community are starting their lives off with healthy mouths.
We coordinate with the Tacoma-Pierce County Health Department (TPCHD) who acts as the "clearinghouse" for providers in the counties' School-Based Oral Health program. At the bottom of this page are the districts and schools for whom we provide service. We only provide services through this program at the sites below at this time.
If your child attends one of the schools below and you would like to sign them up for our program, please complete our Parent Permission Form that will be sent home with your child. Please submit the form to your child's school office. Please note that if our date of service for your child's school has passed, we may not return within the school year.
If your child has Dental needs please schedule an appointment at one of our Dental clinics by calling (253) 722-2151
We have Dental Emergency walk-in hours at all of our clinics:
Monday thru Saturday: 6:30 AM – 10 AM and 12:30 PM – 3 PM
For questions about our School-Based Oral Health Program, you can call our coordinator at (253) 722-1551
If you or your child need assistance enrolling in health insurance, please call to learn more about our Health Insurance Navigators and how we can help you enroll in a health plan: (253) 722-2154
School Based Program Districts
Baker Middle School
Birney Elementary
Blix Elementary
Boze Elementary
Brown's Point Elementary
Crescent Heights Elementary
Downing Elementary
Franklin Elementary
First Creek Middle School
Giadrone Middle School
Grant Elementary
Jason Lee Middle School
Jefferson Elementary
Lowell Elementary
Lyon Elementary
McCarver Elementary
Meeker Middle School
NE Tacoma Elementary
Point Defiance Elementary
Stewart Middle School
Sherman Elementary
Whitman Elementary

Clover Creek Elementary
Elk Plain School of Choice
Evergreen Elementary
Graham Elementary
Kapowsin Elementary
Naches Trail Elementary
Nelson Elementary
North Star Elementary
Rocky Ridge Elementary
Roy Elementary
Thompson Elementary

Brouillet Elementary
Ballou Junior High
Ferrucci Junior High
Karshner Elementary
Hunt Elementary
Meeker Elementary
Ridge Crest Elementary
Shaw Road Elementary
Stahl Junior High
Zeiger Elementary

Discovery Primary
Endeavour Intermediate
Hedden Elementary

Ford Middle School
Keithley Middle School
Central Avenue Elementary

Drum Intermediate
Narrows View Intermediate
Sunset Primary
Chambers Primary
Evergreen Primary
University Place Primary

Dieringer Heights Elementary
Lake Tapps Elementary

Anderson Island Elementary

Tacoma Community College
Multicultural Child & Family Hope Center