March 14th is Equal Pay Day. It is a symbolic event dedicated to raising awareness and informing the community about the gender pay gap. It is a global issue around the world. In the United States, this date symbolizes how far into the year the average woman must work in order to earn what the average man earns in the previous year regardless of experience or job type. This means that women must work 438 days to earn what men do in 365 days.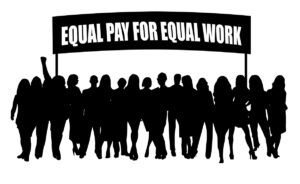 According to the ACLU, Women still make just 78 cents for every dollar earned by men. Black women earn only 64 cents and Hispanic/Latina women only 54 cents for each dollar earned by white men. Gender pay barriers makes it much harder for women in our society to achieve upward mobility. Women should not get paid less to do the same work as men. The gender pay gap is an obstacle that forces many overqualified women to work lower wage jobs or be penalized for pregnancy. Studies show for every child a woman has; she suffers a five percent wage penalty. Meanwhile, men are paid more when they become a father due to the expectation, "men are supposed to take care of the family."
While women have gained important political power and business leadership positions, there is still work to be done to reach complete equity, especially when it comes to salary equality. Over half a century after the passage of the Equal Pay Act, women still face a substantial gender wage gap. To everyone here at Community Health Care, let's do the necessary work to close the gender pay gap.
Resources:
Closing gender pay gaps is more important than ever
The Gender Pay Gap: Why It's Still Here
Gender pay gap in U.S. held steady in 2020
The Simple Truth About the Gender Pay Gap
A Proclamation on National Equal Pay Day, 2023