March is Women's History Month; a national recognition of the vital roles' women has played throughout history. This recognition began in one town in 1978 when the Education Task Force of the Sonoma County Commission on the Status of Women celebrated "Women's History Week" in Santa Rosa, California. The week was chosen to include International Women's Day, March 8.
The movement spread to other communities, so in 1980 a consortium of women's groups and historians asked the federal government for recognition. President Jimmy Carter proclaimed the week of March 8, 1980, to be National Women's History Week, citing in his proclamation that the "achievements, leadership, courage, strength and love of the women who built America was as vital as that of the men whose names we know so well. "The recognition was renewed by later presidents until March 1987, when Congress designated March as "Women's History Month."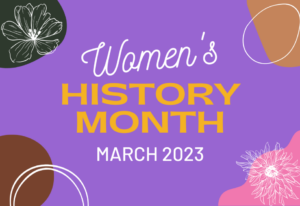 Again, March is Women's History Month, a time to honor and celebrate women's contributions in American society. This year we are recognizing Women's History Month in a different way – by featuring short messages of the amazing women here at CHC about what it means being a Woman in Healthcare.
There are incredible contributions by women throughout human history. But Women's History Month isn't just about history. It serves a much bigger purpose: to increase awareness and bring to the forefront those who are overlooked. In closing, We have work to do, but it is meaningful work we can do together. As we recognize Women's History Month, I hope you will heed the call and use your voice to advocate for others. It takes each one of us to build a more equitable Community Health Care that serves everyone.
Weekly Acknowledgements:
March 8: International Women's Day
March 14: Equal Pay Day
March 20: Gender Equity
March 27: Women Empowerment
Resources:
About Women's History Month
Women's History Month
National Women's History Alliance
National Women's History Museum
A Proclamation on Women's History Month, 2023