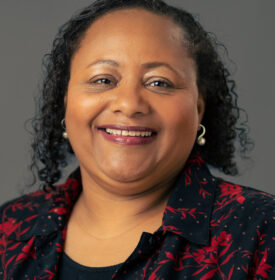 Kimberly Sales, ARNP
Medical Provider
Specialty(s):
Family Medicine
Location(s):
Hilltop Medical Clinic
NP Residency Director
Licensed by the State of Washington as a Nurse Practitioner, Kimberly Sales, ARNP, practices with Community Health Care's Hilltop Regional Health Center Family Medical Clinic. Ms. Sales provides the full spectrum of medical care to patients of all ages.
Kimberly earned a Bachelor of Science degree in both Nursing and Psychology from Michigan State University. She earned her Masters in Nursing Science from Vanderbilt University. Her first nursing position was serving as a Commissioned Navy Nurse Corps Officer at Bethesda Naval Hospital.
Kimberly has also served as a guest lecturer on health issues and was VP of the Charles Drew Sickle Cell Board for Mary Bridge Children's Hospital. She has also been a clinical instructor for the University of Washington School of Nursing.